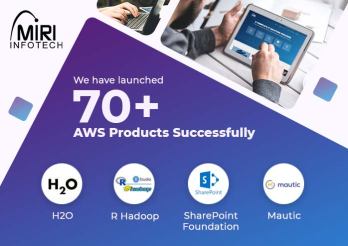 A complete IT solution provider- Miri Infotech brings a wide range of amazing services such as Software Development, Web Application Development, Website Design, Embedded System Development and Customized Software Application Development. Founded in the year 2003, with it' s headquarters in US and branch offices in Delhi and Mohali, Miri emerged as high in quality of the services provided and out of the box technologies to build effective and scalable solutions that help customers to achieve their business objectives.
Talking about its achievements, Miri has recently achieved a great milestone by launching more than 70 products on AWS platform.
To get into discussion with what actually Amazon Web Service is and why it's more like an achievement to launch products on this platform, one should know about it. AWS is a broad IT infrastructure platform which provides services such as computing power, storage options, content delivery etc. and it's features doesn't end here, rather goes deeper day by day such as database engines, server configurations.
So it was really a great experience for Miri, simultaneously an amazing success to launch their products and not only just to launch but also to provide guidelines for the users to use it. Installation and configuration instruction sets are available. On just a single mouse click, users can easily reach to our live demo sections and also the YouTube videos displaying the configuration and usage instructions about the product.
The highlight of the product that was successfully launched by us is R Hadoop and along with it numerous other products of different categories such as Joomla, OpenCart, phpBB, WordPress and many more.
When you join to the Miri products, your queries are our sole responsibility and we are always there to help you with everything possible. Our services are available 24*7. You can reach us at the following contact numbers: (510)298-5936 and Email- support@miritech.com .