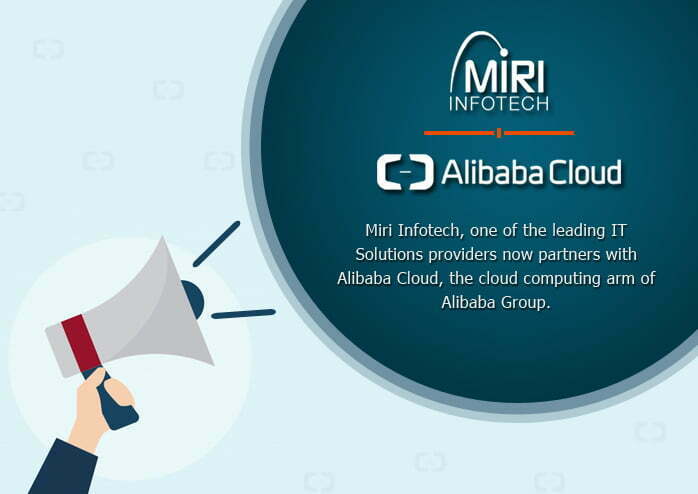 New Delhi, 12 December, 2018– Miri Infotech, the global IT Solutions Provider, and Alibaba Cloud, the cloud computing arm of Alibaba Group, announced their strategic technological alliance recently to provide digital transformation to businesses all over the world.
Alibaba Cloud will be the latest global cloud provider to join Miri's alliance community. Through this partnership, Miri's clients will be empowered with cutting edge cloud technologies and over the top experience. This partnership will help the clients with advanced scalability and facilitate better connectivity between businesses.
"We are elated to have Alibaba Cloud as our technology partner and are excited to expand our partnership across a wide range of areas. By combining our leading technology and Alibaba's experience in driving digital transformation, we are confident that our clients worldwide will benefit from the technology innovation that will come through this partnership." said, Ankesh Pratap Shahi, CTO, Miri Infotech.
He further added, "Our association exhibits how Alibaba Cloud's partner network will be an important strategic asset to bring technological advancements through Miri's products. Alibaba's highly innovative data-centric computing infrastructure coupled with Miri's power centric technology will enable concurrent insights for customers from the cloud to the edge."
As an Alibaba Cloud partner, our experts will help businesses to get the most out of their investment. Clients will now be able to leverage our experience architecting, migrating and managing Alibaba Cloud to scale their services across the world.
About Alibaba Cloud
Established in 2009, Alibaba Cloud (https://www.alibabacloud.com), the cloud computing arm of Alibaba Group, is among the world's top three IaaS providers according to Gartner, and the largest provider of public cloud services in China, according to IDC. Alibaba Cloud provides a comprehensive suite of cloud computing services to businesses worldwide, including merchants doing business on Alibaba Group marketplaces, start-ups, corporations and government organizations. Alibaba Cloud is the official Cloud Services Partner of the International Olympic Committee.
About Miri Infotech
Miri Infotech is a leading IT Solutions provider with a strong team of professionals that was founded in the year 2003, with its headquarters in US and branch offices in Delhi and Mohali. From Business Intelligence services to cloud computing, Miri has proved its mettle in market by providing complete solutions package that boasts of quality and cost effectiveness. Miri focuses on product development partnerships with technology companies as well as solutions to the startups. Miri is awarded with GSA and CMAS Certification and is already a Consulting Partner of Amazon Web Services. Miri is also associated with Google Cloud Platform and Salesforce AppExchange for cloud services.
For More Information
Reach us at www.miritech.com
Email: sales@miritech.com